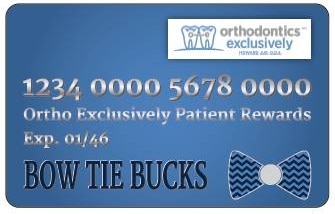 We are excited to announce our new and improved Bowtie Bucks program! This program is designed to motivate and $REWARD$ all our patients. During each treatment visit you can earn points by:
Being ON TIME for your appointment
Having EXCELLENT ORAL HYGIENE
Not having ANY broken bands, brackets, or wires
Bringing ALL removable appliances to your appointment
Getting good grades
Referring your friends
Visiting your DENTIST for regular cleanings
Volunteering
And MUCH MORE!
When you have earned enough points, you can redeem them for gift cards from Nordstroms, Barnes and Noble, iTunes, Amazon, and much, much more!